ATTENTION:  Important Reminder About Your BC-PASS Account
There are two account types offered to BC-PASS customers:  Pre-Paid and Pay-As-You-Go.
Pre-Paid: $25 initial funding; $10 minimum balance threshold and $25 minimum replenishment. Customers also have the option of increasing initial funding, minimum balance thresholds and replenishment amounts based on expected usage. Your saved payment method will be used to replenish the account when the minimum balance is reached.
Pay-As-You-Go: No initial funding required. Usage will be deducted from the payment method saved to your BC-PASS account. Bay City resident accounts will default to this account type.
NOTE:  If you are a City of Bay City resident and prefer to maintain a Pre-Paid account type, you will have the option to remain or convert back to Pre-Paid status by contacting customer service or visiting our walk-in center.
Join Us August 15 for a Community Connections Event
We invite you to join us Tuesday, August 15 , 6-7pm, in the Lower Lobby Level of City Hall, 301 Washington Ave.
Our team will be on hand with some quick updates about tolling on Liberty Bridge and construction progress on Independence Bridge. We will leave plenty of time for folks to mingle and ask questions.
We look forward to seeing you then!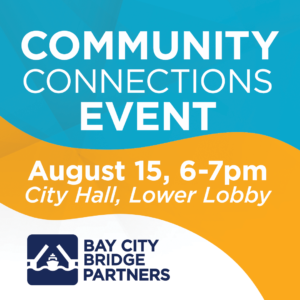 BCBP Customer Service Center Hours Changing
In response to the flow of walk-in traffic, we are adjusting our hours as follows effective August 12 (meaning the Customer Service Center will be closed this coming Saturday, August 12):
Monday – Thursday: 8:30am-6:00pm
Friday: 8:30am-4:30pm
1st & 3rd Saturdays of the month: 9:30am-12:30pm
We continue to offer our Call Center, Monday thru Friday, 8am-7pm.
Coming Soon!
For those patiently waiting to choose the $15/month unlimited option, the wait should be over later this month. Please know that no transactions will be processed on your BC-PASS account until we have officially announced availability of the $15/month unlimited pass and provide you with a reasonable window of time update your account. 
For others – including those paying per crossing or Pay-by-Plate – we will soon announce when to expect transactions to be visible on your account or when to anticipate your invoices by mail.
Thank you for continuing to drive on Liberty Bridge. We appreciate your patience.
Haven't Gotten Your BC-PASS Yet?
There are three ways to get a BC-PASS if you haven't already:
Online – at BayCityBridgePartners.com (transponders will be mailed)
In person – at 300 Center Avenue, Suite 101, in downtown Bay City (walk out with a transponder). Most current hours are available here.
Phone – call 855-648-4330, M-F, 8am-7pm
If you have already created an account, be sure to update it with your payment information and properly install your BC-PASS sticker in your vehicle. If you have any questions, reach out to us at 855-648-4330, M-F, 8am-7pm.