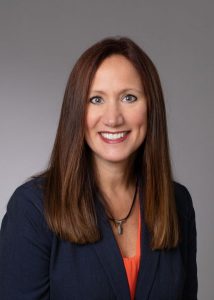 Bay City native Lynn M. Pavlawk is our new general manager of operations. As general manager she will direct operations during the rehabilitation and modernization of Liberty Bridge, replacement of Independence Bridge, as well as all ongoing operations after construction. Among her initial duties will be securing a BCBP office in Bay City.
Lynn has more than 28 years of proven experience in the automotive industry, and a transition to transportation infrastructure is a natural fit. She has a diverse, global background leading strategic transformational initiatives to improve performance, drive revenue growth and achieve business success. She honed her expertise at Nexteer Automotive and its predecessor businesses, General Motors and Delphi where she quickly advanced through various management and leadership roles in global strategy development, sales planning, marketing communications, government affairs, corporate social responsibility, and engineering. Most recently, she was the Executive Director of Corporate Development at Mobex Global.
Lynn says she is excited about the opportunity to be a part of making tomorrow better than today for the residents, businesses, and communities in Bay City, Bay County, and the surrounding areas. She looks forward to serving as an active member of the community, working together with others to improve our quality of life and transportation experience.
In addition to completing several executive leadership programs, Pavlawk holds a bachelor's degree in mechanical engineering from the University of Michigan and a master's degree in engineering sciences and management of technology from Rensselaer Polytechnic Institute in Troy, NY.
She has been a member of the Michigan Manufacturers Association, Original Equipment Supplier Association, and the Motor Equipment Manufacturers Association.
Welcome, Lynn!